Veröffentlicht am 02. März 2021
One year as a NGN system administrator at 3U TELECOM
an experience report from our colleague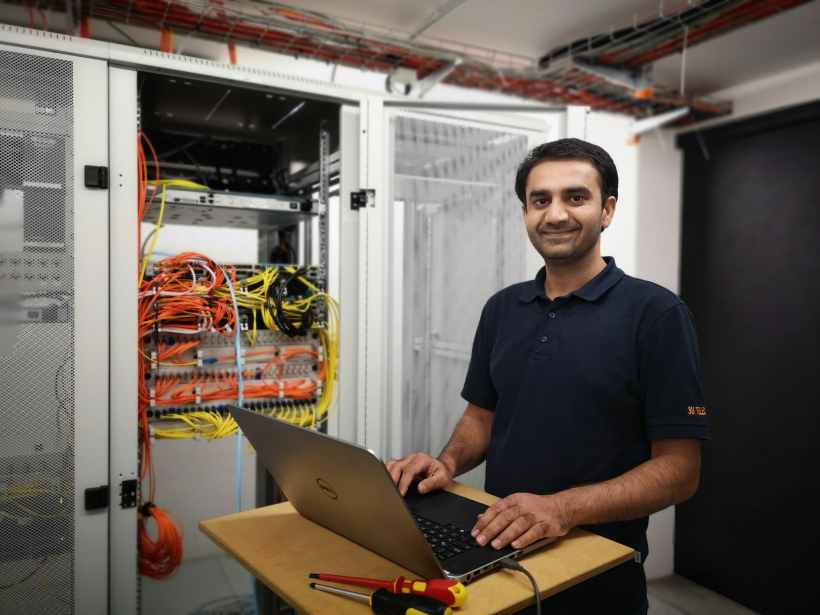 I joined 3U TELECOM a year ago as NGN-system administrator. It is my first job ever outside of my home country. Most of the networks and administration tools were new for me. At the beginning everything looked complicated. Then I was coached under supervision of a well-trained team of IT experts. I was given demonstration about all the software and networks tools on which we work. Most of my probation period was about my training regardless of my previous work experience. I was given tasks and then assessed. I was being trained and corrected in case of mistakes and deficiency. Here in 3U TELECOM I got a chance to work on advance tools and network elements such as Juniper, Cisco, HP, Fortinet firewalls, Network Monitoring tools, voice technology and security of network. We keep all our data and information up to date by using the centralized tools. We have different software for documentation where we keep update the information of the IP subnets, vlans, networks nodes and customers information. 3U TELECOM always priorities their clients while providing the best services in regards of the data bandwidth, secure network, troubleshooting services and quick response.
The focus and aim of 3U TELECOM is to provide customers with the best state-of-the-art services in a secure and reliable network. Therefore, it is one of my tasks to keep the network secure from unauthorized use and access. Currently I am working on a project with the assistance of my senior where we are designing a secure network topology. This allows us to make our network more reliable, optimal and secure. We are working on TCP UDP ports and involving the firewall and switches for compliance.
The culture and the office environment of 3U TELECOM
Germany was very new place for me as I am originally from Pakistan. It was very new and unsettling for me to work in an entirely foreign place with new people and a new culture. It was also difficult for me to communicate in German language. But I feel very comfortable and confidence here among my team fellows. During my probation I was mostly focused to increase my personal ability to adjust with the office culture and environment. In 3U TELECOM there is a diverse culture with respect and cooperation. I feel very comfortable in my team and I made very good friendships with my work fellows. When I have difficulties, my colleagues are always here to rescue me.
I have been helped in a great way regarding my Residence Permit. I was not aware about the procedure to apply in Foreigner's Office. One of my colleagues took my case as very personal and he helped me and guided me through all steps and documentation. My health insurance, residence in Marburg and all other important matters were deal in a polite way. That was a great example of welcome to a foreigner in Germany.
Unsere Experten beraten Sie persönlich und finden für Ihre individuellen Anforderungen eine Lösung nach Maß. Wir freuen uns auf Ihren Anruf, E-Mail oder Rückrufwunsch.